Springtime Butterfly Craft
It's spring, however here in Northeast Ohio, it feels more like winter! But we are excited about the promise of spring!  Who would think that we would still have snow on the ground in mid-April.
Right now your little ones are tired of being cooped up as much as you are. Perhaps a fun project will keep them occupied as well as help them dream about playing outside, running through the grass and catching fireflies and butterflies.
We have chosen an easy and fun butterfly project to do with your children.
No sew felt butterflies! These cuties can be added to headbands and pin backs to wear.  You can also attach them to straws and push them into the dirt of indoor plants to give them a pop of color. Or you can attach the butterflies to the front of a handmade card for someone special! This fun craft is courtesy of A Cultivated Nest (easy no sew felt butterfly craft).
No Sew Felt Butterfly Craft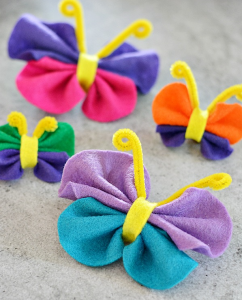 Materials:
Felt
Hot Glue
Pipe Cleaners (AKA chenille stems)
Circle Templates – I use my glass lids
Sharp Scissors
Pencil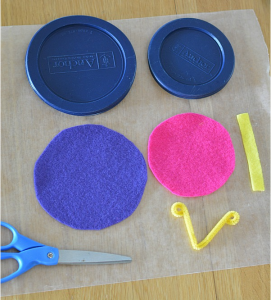 The large butterflies contain 1 each of the following:
4″ circle and 5″ circle
3-1/2″ x 1/2″ body
6″ antenna
The small butterflies contain 1 each of the following:
3″ circle and 2″ circle
body
antenna
Directions:
Using a circle pattern (lids, cookie cutters, glasses) trace the circle onto the felt with a pencil. Cut out circles.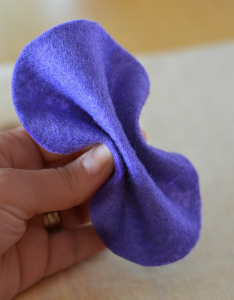 Fold the circle in the center and fold ends in to create wing shape.
Affix with hot glue in the seams and hold for a few minutes until it stays together. Flip over and add more hot glue in the center of the seams. Repeat until one large and one small circle is glue together.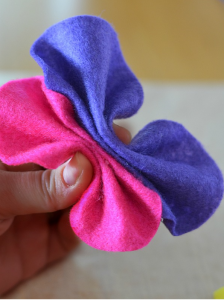 Hold one large and one small wing in your hand and glue together with hot glue.
Fold pipe cleaner in half. Roll each end with a pencil to create antennae.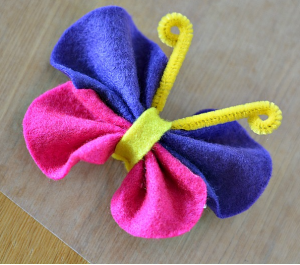 Wrap the center of the wings with the yellow body and add the antenna. Hold together and hot glue.